UPS & Inverter
Numeric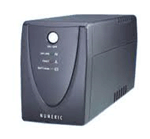 Numeric is the top of mind recall today for users of alternate power back-up solutions. Besides being a leader in the country.
Numeric now has footprints globallly.
Innovation through Technology
With the unique blend of cutting edge technology, Numeric Offers environment sensitive alternate power back-up solutions . Being a major manufacturer of futuristic power back-up products, it has the scale, sophistication and a wide range to meet international benchmark
Modern lifestyles require innovative products, innovative marketing and services with endless options for safe, and environment friendly alternate power source.
Sailent Feature
Control : High end Digital signal controller based design
Provides extra long back-up for computers as compared ordinary UPS
Smart SMPS based battery charger with automatic power factor correction, which enhance the battery life as well as reduce electricity bill upto 40% compared to that of conventinal technology based battery chargers
Fuzzy logic control a unique and advanced technology that protects the battery, reduces frequency of water topping and enhances battery life
Heavy duty charger option that charge the battery 40% faster than as compared to ordinary models
High surge capability (up to 300%)
Intelligent thermal management
Overload and short circuit protection with auto-reset
Battery pole reversal protection
Battery deep discharge protection
User-friendly graphical display with audible alerts
Choice of various aesthetically designed models
Option of castor wheel mounted trolley for easy movement
Future upgrade ability through digital flash memory
Exotic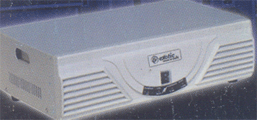 "Powering the Peninsula" is the motto of our company. We, a pro-active, dynamic team, forge ahead to empower and present to the nation, the advanced Micro-Processor technology
Our Cutting-edge technology is unique and is brought to you in an enhanced manner through our collaboration with korean technology.
Our initiatives to facilitate householders and residences to enjoy uninterrupted activities presents you with Digital inverters that ends all inconveniences of power failure and enables you to function normally
Special Features
Microprocessor based Digital technology


Wide range input voltage


Saves electricity bill upto 20%


High efficiency PWM technology


Automatic charging control


Computer Compatible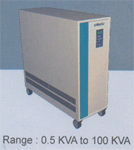 Ture Sine wave Double Conversion
IGBT Based PWM Technology
Fully Microprocessor Controlled
Input (1 Φ / 3 Φ) output - (1 Φ / 3 Φ)
High Efficiency
Suitable for extended back up time
Intelligent battery management
Generator Compatible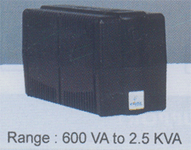 Wide range input (160 - 270V)
Single board design
Built in AVR
Cold start
Generator Compatibility
Shock Proof Cabinet